Industrial Hoses
Coniston Profiles provide an extensive range of Flexible Hoses to meet virtually every Industrial application. Bore sizes range from 5mm up to 508mm in a variety of materials.
It would be impractical to illustrate the full extent of our range but here you will find some of our most popular demands which can be supplied fitted or unfitted.
Please call for information on any aspect of your fluid handling requirements or for assistance on a product not found below.
Food & Beverage Hoses
Lightweight series suction and delivery hose, ideal for all BEERS WINES, SOFT DRINKS, MINERAL WATER ETC.
Lightweight Hose construction offers a 50% weight saving along with its 316 S/S Hygienic end fitting. This new brewers Suction and Delivery hose is now far more CLEANER and Where higher temperatures are to be met this hose proves beneficial.
A RED SMOOTH OR CORRUGATED outer cover, white odourless and taste-free liner that meets all F.D.A and B.G.A requirements.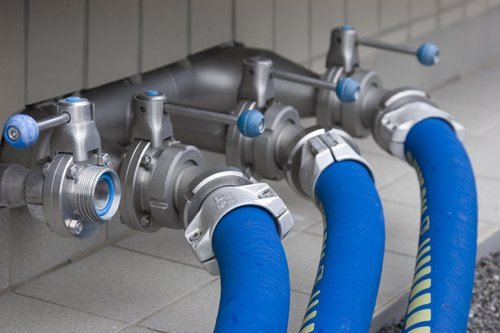 High working temperatures/ Pressures and highly flexible.

Exceptional ease of handling which is much appreciated by operators.

Approved by all the leading UK Brewers.

All Hygienic swaged assemblies are fully tested and certified.

Suitable for C.I.P. Systems.

Pressure and suction capabilities are found with a wire-free construction replaced by multiple synthetic reinforced textile braid.

Permanent 'Deep Engraved' ferrule serial numbering.
Available in sealed bags for clean storage/ transportation.

Cut Back and Re-Fit Service utilising existing Hygienic End Fittings.

Bounce Ring Protectors can be fitted.

Sizes available-1"NB to 4 NB.

Working Temperature -40°C to +120°C Constant.

Working Pressure - 8 Bar Constant.

Can be supplied in lengths up to 40 Mtrs.
XPLE
lined cross-linked Polyethylene hose is ideally suited to solvents and aggressive chemicals. The cover is made of chloroprene rubber and the hose is reinforced with synthetic braid and wire helix.
Water-Hose
Mandrel built water discharge hose widely used by factories and construction sites also available as a suction pipe. Manufactured from EPDM it has a pressure rating of 150psi.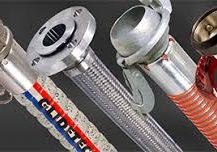 Food Grade Hose
Available with White FDA Liner for Food and Pharmaceutical applications.
Delivery Guns
Available to suit if required.
Anti-Static
Copper wires are embedded.
Steam Fittings
Steam Fittings include damps and male & female safety clamps - widely used in the Oil and Petrochemical Industry.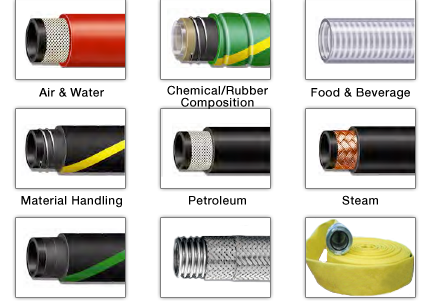 Steam Guns
There are a range of rubber hoses and fittings which are designed specifically for the transfer of steam and saturated steam.
Pressure range from 100psi to 250psi.
Available in RED or white depending on working environment. Manufactured from smooth EPDM reinforced textile and steel wire.
Braided Hoses
Coniston Profiles have a wide range of stainless steel hose assemblies to offer, covering a multitude of applications.
Stainless Steel Flexible Hose Assemblies
Manufactured using a 321/316 Inner Core available with 304/316 Overbraid. SINGLE and DOUBLE BRAIDS are on offer and special metals such as MONEL/INCONNEL can be provided upon request.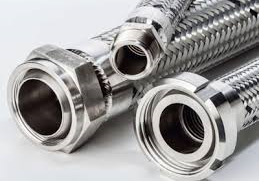 P.T.F.E Lined Hose Assemblies
Available in both SMOOTH and CORRUGATED linings Available in Virgin PTFE and Anti-Static PTFE. Double Braided hose is recommended for higher pressure use or in applications where the hose may be heavily flexed and in danger of kinking.
Sizes from 1/4" to 6" available with many end connectors.
External Hose Covers or protective jackets can be added where extreme temperatures are to be met. They also provide ease of cleaning and encourage names and working pressure to be printed clearly.
- Projacket Covers provide temperature suitability of 1000°c.
- Springuard Covers provide outer protection.
- Corrugated Cores provide extreme flexibility in bore sizes from 10mm to 50mm.
All hoses can be manufactured to provide electrical trace heating.
PVC Hoses
Coniston Profiles supply a wide variety of P.V.C, FLEXIBLE HOSES which are manufactured with a reinforced P.V.C and wire spiral. This creates a flexible and durable product which gives excellent weathering capabilities. It is light and easy to handle and has a smooth inner surface giving optimum flow. Some of the hoses are made with an ANTI-STATIC wire if electrical continuity is necessary. Suction and Delivery hose has a polyurethane liner as extra. For general use, this product is particularly suitable for the delivery of LIQUIDS, POWDERS, CHEMICALS & AGGREGATES.
Our GREEN TINT DELIVERY HOSE is popular and ideal for light suction too, particularly for liquids, slurry and dilute chemicals in areas such as AGRICULTURE, HORTICULTURE AND MARINE TRADES.
The PVC OIL RESISTANT HOSE is blue in colour and used for the suction/delivery of oils including fuel oils, diesel, lubricating oils and some chemicals.
The WHITE & CLEAR SPIRAL HOSE is used in the FOOD industries for the transport liquid foods.
Finally the heavy duty GREY suction hose serves applications such as INDUSTRIAL, MUNICIPAL AND AGRICULTURAL suction/delivery of WATER, SEWAGE & CHEMICAL PRODUCTS.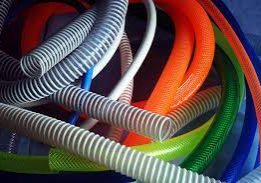 Composite Hose & Forecourt Accessories
Coniston Profiles provide a wide range of Road Tanker Spares & Accessories to suit all models including Fuel Station Forecourt Spares.
Composite Hoses
COMPOSITE HOSE is constructed from a combination of thermo-plastic layers manufactured using a variety of liners and internal/external helix wires to many applications. A final polypropylene coated outer cover is fitted in colours defining its general application. They are designed a purpose chemical, petrochemical and food transfer hoses with the added bats of being extremely LIGHTWEIGHT and FLEXIBLE.
The result is a composite hose that does not kink or collapse, that provides great strength, and service life and offers superior safety and performance
Typically, most hose assemblies provide full end-to-end ELECTRICAL CONTINUITY with less than 10 els resistance that is achieved by bonding both the inner and outer wires to the end fittings Assemblies are also available with specified electrical resistance, semi-conduction or with non-conductive properties.
- BORE SIZES range from 1/2 to 8
- POLYPROP LINER, POLYPROP COATED INNER WIRE/GALVANISED OUTER WIRE
Oil and light chemical applications.
- PTFE LINER, STAINLESS STEEL INNER WIRE GALVANISED OUTER WIRE.
Acids, solvents, harsh chemicals and foods.
-POLYPROP LINER, GALVANISED INNER AND OUTER WIRE.
Light oils and fuel oils,
- POLYPROP OR PTFE LINER, STAINLESS STEEL INNER & OUTER WIRE.
Acids, solvents and an externally harsh environment
- HIGH TEMPERATURE INSULATED PTFE LINER STAINLESS STEEL INNER & OUTER WIRES.
Molten and bitumen applications.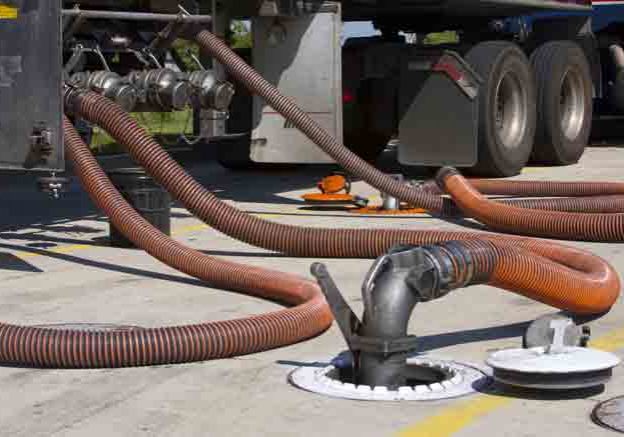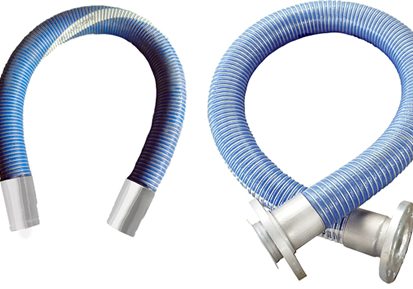 END FITTINGS are secured by swaging, wire whipping or banditing in gun-metal alloy, stainless steel. polypropylene, brass and bronze according to requirements. These are attached to both the inner and outer helix giving a secure seal and ensuring electrical continuity.
TESTING AND IDENTIFICATION is the final process and the most important to ensure an assembly is complete. At Coniston Profiles we offer various options depending on the requirements of our customer.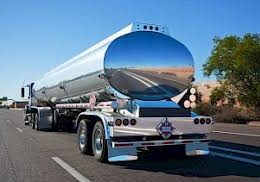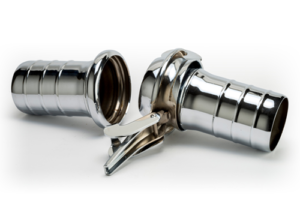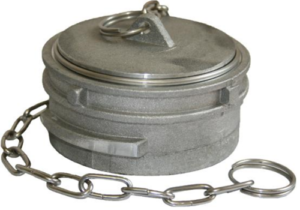 Delivery Nozzles & Accessories
As part of our range of Road Tanker and Fuel Oil Accessories we are able to introduce som of the most popular spares available.
Our Premium Nozzle
With anti-drain valve offers good glow rates and a compact design which has resulted in a product efficiently delivering Fuel Oil Products.
Low in weight and comfortable to use its simplicity of design allows spares
to be obtained with ease and at low costs.
-SIZES:
1.5" BSP Inlet Female Swivel to 1.5" BSP Female Outlet. (Fixed or Swivel) 1.5" Inlet Female Swivel to 2" BSP Female Outlet. (fixed or Swivel)
-MATERIAL:
Aluminium Body and Internals. Stainless Steel Handle, Gunmetal Swivel Lug Nut. Lockable Handle is Available as an option.
CHOOSE FROM A VARIETY OF STANDARD AND REDUCING SPOUTS IN ALLOY, GUNMETAL OR STAINLESS STEEL. MANUFACTURED DIAMETERS:- 1 1/2", 2", 8" 12" AND 24" AVAILABLE
SPARES KITS, REPAIR KITS AND SEAL KITS ARE READILY AVAILABLE. ASK OUR SALES TEAM FOR DETAILS OF VARIOUS BRANDS.
Tanker Fittings
Coniston Profiles can offer a wide range of Tanker Accessories to suit all models including Petrol Station Forecourt spares.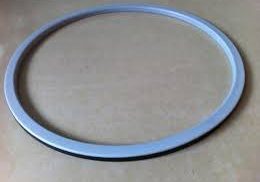 Road tanker fittings includes:
Fuel oil delivery nozzles.

Threaded fill pipe adaptors - fill caps, fill pipes, vent cowls, vent caps.

API deep throat and shallow throat fittings.

Lockable cam & groove fittings in alloy, brass, stainless steel & polypropylene.

Lugged hose fittings - BSP, URT, flanges, Welding fittings.
Seals, cam spares, api spares, chains, straps, hose keys, swing bolts etc.

Vapour recovery fittings.

Drip caps & seal with chains.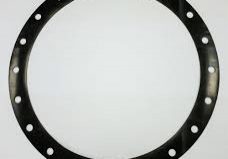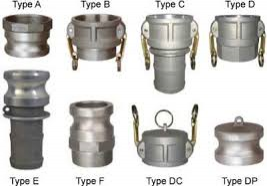 Dry Break Couplings
An effective form of connection where exceptionally low spillage and air inclusion properties are required. Flat-faced valves automatically operate on connection and disconnection. Some famous names associated with Dry break couplings are:
-TODO
-AVERY HARDOLL
-EMCO WHEATON
-FULCRUM
This concept is achieved by the automatic closure of sealing faces on the two coupling components on disconnection. The operation of the coupling is by a simple twist action on the hose unit.
They cover a wide range of industrial applications which include: AIRCRAFT REFUELLING, BOTTOM-LOADING ROAD AND RAIL TANKERS which handle dangerous, toxic, valuable or unpleasant fluids where spillage is vital.
Also FOOD, DRINK & PHARMACEUTICAL INDUSTRIES where minimum air contact sterility is a requirement.
- MATERIALS: Aluminium, Bronze, Gunmetal, Stainless Steel 316.
- SIZES AVAILABLE: 3/4" Up to 4" Male and Females Tank unit and Hose unit.
- THREADS AVAILABLE: BSP, API, NPT and Flanges.
- SEALS: Viton, EPDM, Nitrile Kalrez, Teflon and Neoprene.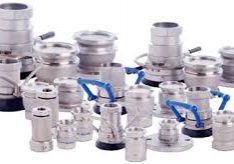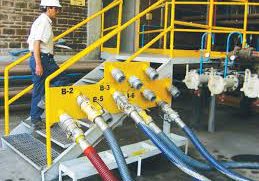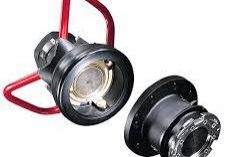 For all your fluid optimisation needs